Switch disconnectors and changeovers switches GL series up to 630A
This new range of products covers applications from 160A to 630A, can be actuated directly or used with a door interlocked handle and feature a wide range of accessories for all installation requirements.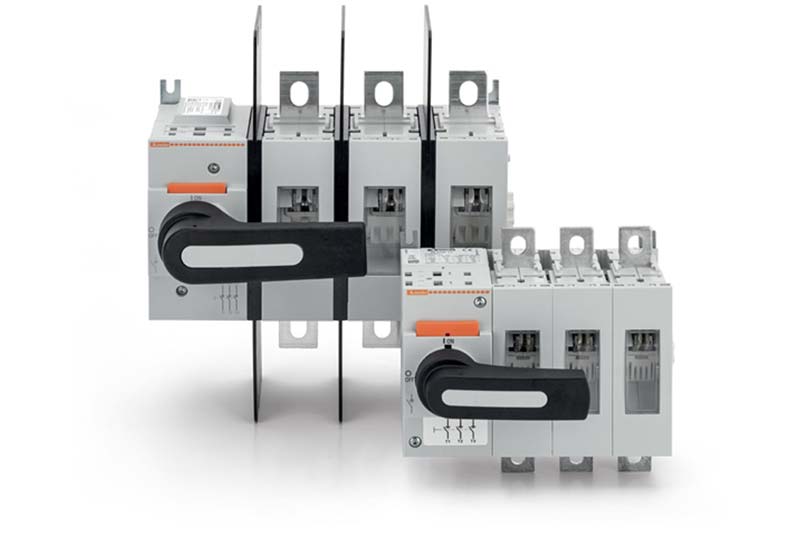 The switching technology, designed for very fast actuation, allows the using of these devices for switching loads in category AC23A up to 630A at 400V or 500A for higher voltages.
GL switch disconnectors feature a compact body. The four-pole version can be made up directly by the client thanks to the supplementary fourth pole (available separately) which, like the neutral and earth terminals, can be installed on both sides of the switch with 2 screws included in the kit. The switch disconnectors can be mounted to a plate with 4 screws, without any restriction on positioning.
GLC changeover switches are supplied pre-assembled in the three-pole and four-pole configurations, and their electrical features make them compatible with any application, despite their small size. They can be plate-mounted using 4 screws without any restriction on positioning.
For both types of product, the power contact position (open/close) can be seen via the transparent window on the front of the unit itself.
They can also be fitted with handles (available separately) for direct operation or door interlocked by installing an extension shaft. All versions have integrated padlock fittings and are available with the highest protection ratings on the market (IP66, IP69K and NEMA 4X).
The door interlock handles are available with shafts of various lengths and, in order to prevent the inclination of very long shafts from causing interference with the doors, an accessory is available to support and perfectly guide the shaft in to the handle while closing the door.
All door interlock handles are compliant with UL508A, which requires that trained personnel is able to inspect the panel when it is switched ON. To enable this, they are equipped with a mechanism to inhibit the mechanical interlock, which makes it possible to open the door even when the switch disconnector/change-over is in ON. This inhibition mechanism can only be enabled with a tool, to prevent involuntary operation.
To satisfy every installation requirement, along with the accessories above mentioned, a range of terminals, auxiliary contacts, terminal covers and phase barriers are also available. The terminals are screw-mounting, while no tools are required to install the other accessories, since they securely snap on so that the installation is quick and easy, and access to the panel for maintenance is guaranteed.