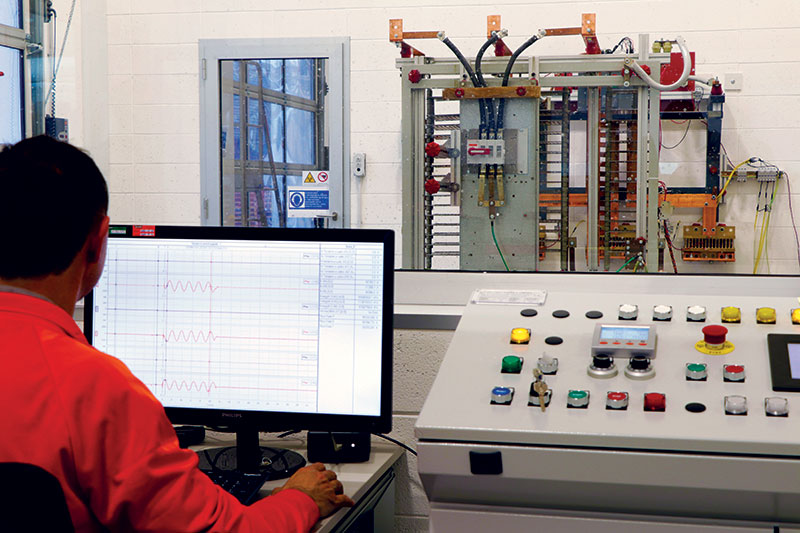 LOVATO LAB is the R&D laboratory of LOVATO Electric specialized in R&D testing.
The laboratory is born from the need to expand the company's testing capabilities for the development of new high-performance products, ensuring the highest standards of safety and reliability while reducing time to market.
There are three types of tests:
development testing of new products;
validation testing for compliance with regulations and standards;
periodic testing of existing products.
The LOVATO Electric laboratory quality system complies with the international EN/ISO/IEC 17025 standard and is accredited by leading national and international bodies such as LOVAG/ACAE and IMQ to run the tests required to obtain product certifications.

The laboratory is equipped with medium voltage synchronous alternators, a GTEM cell for EMC tests, a synthetic short circuit system rated to 65kA, programmable current generators for temperature and thermal cutout testing, high precision current generators, isolated high sample rate data loggers and static power breakers.
LOVATO LAB is also equipped with high-speed cameras and thermal chambers for the study of physical phenomena related to products.
For electrical and mechanical service life testing, it has numerous test benches and a low voltage synchronous alternator for the generation of power up to 1800kVA.
There is also a 225kV tomograph for testing the most varied and stringent quality requirements, which analyses the structure of parts in their entirety, both internally and externally.