Platinum series plastic complete control stations
Thanks to the variety of configurations available, the new Platinum series complete control stations can satisfy the most sophisticated and diverse application needs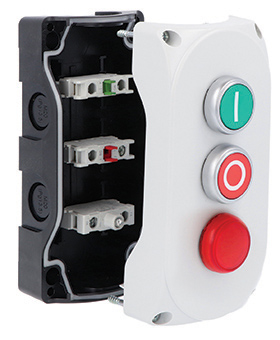 Each unit is composed of the combination of several elements of actuators, control stations and contacts in a common and compact design.
Let's start with the actuators. Flush pushbuttons, mushroom head pushbuttons, selector switches and illuminated actuators are just some of the components you can choose from. They are already mounted on the cover and fixed by a threaded ring nut. There is a broad choice of colours and symbols available.
The control stations, made of polycarbonate, are available with yellow or grey covers with one to three holes. Thanks to the knockout holes for cable entry, the wiring is easy and quick.
There can be three contacts per actuator, and for illuminated actuators it is possible to mount one LED element and two contacts. All the contacts are already fixed on the base of the control station to ensure quick and safe wiring as well as limiting labour in the event of replacements or renovations.
In addition to the assembled models offered in the catalogue, you can create your own customizations by selecting the actuator choosing from:
double and triple-touch actuators,
illuminated actuators,
illuminated mushroom head actuators,
LED monoblock pilot lights,
knob selector switches,
monoblock potentiometers,
monoblock buzzers
communication interfaces.

The control station, which can have up to a maximum of 6 holes, can be customized with engraving dedicated to the type of button or with your own logo, the actuators can be personalized with text and icons.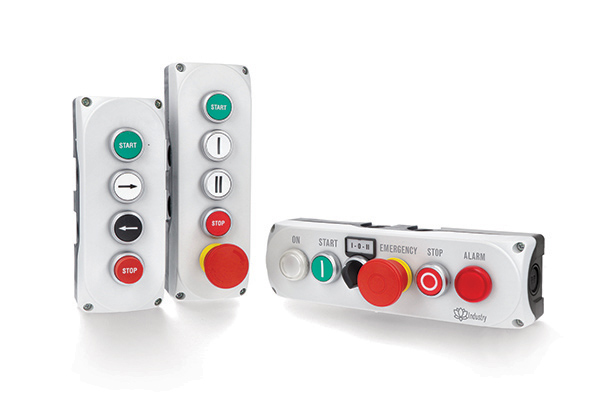 All the complete control stations are designed to be used even in particularly aggressive environments.
With the highest degree of protection available on the market, IP66, IP67 and IP69K, they guarantee the integrity of the enclosure against steam, very intense jets of water and the entry of unwanted parts.
This makes LOVATO Electric's complete control stations ideal for installation on machinery subjected to washing cycles.
The new complete control stations are compliant with the following standards: IEC/EN 60947-1, IEC/EN 60947-5-1, UL508A, CSA C22.2 n° 14.