LOVATO Electric presents its new
BF160, BF195, BF230 contactors
LOVATO Electric updates its existing range of contactors with a new construction size.
The new contactors are rated 160A, 195A and 230A three-phase for motor control applications, and 250A, 275A and 350A in AC-1 category.
They are available in both 3 and 4 pole versions.
They replace contactor codes 11B…, of similar ratings which have demonstrated their reliability and robustness over the years. The new size is more compact and efficient, in response to market demand.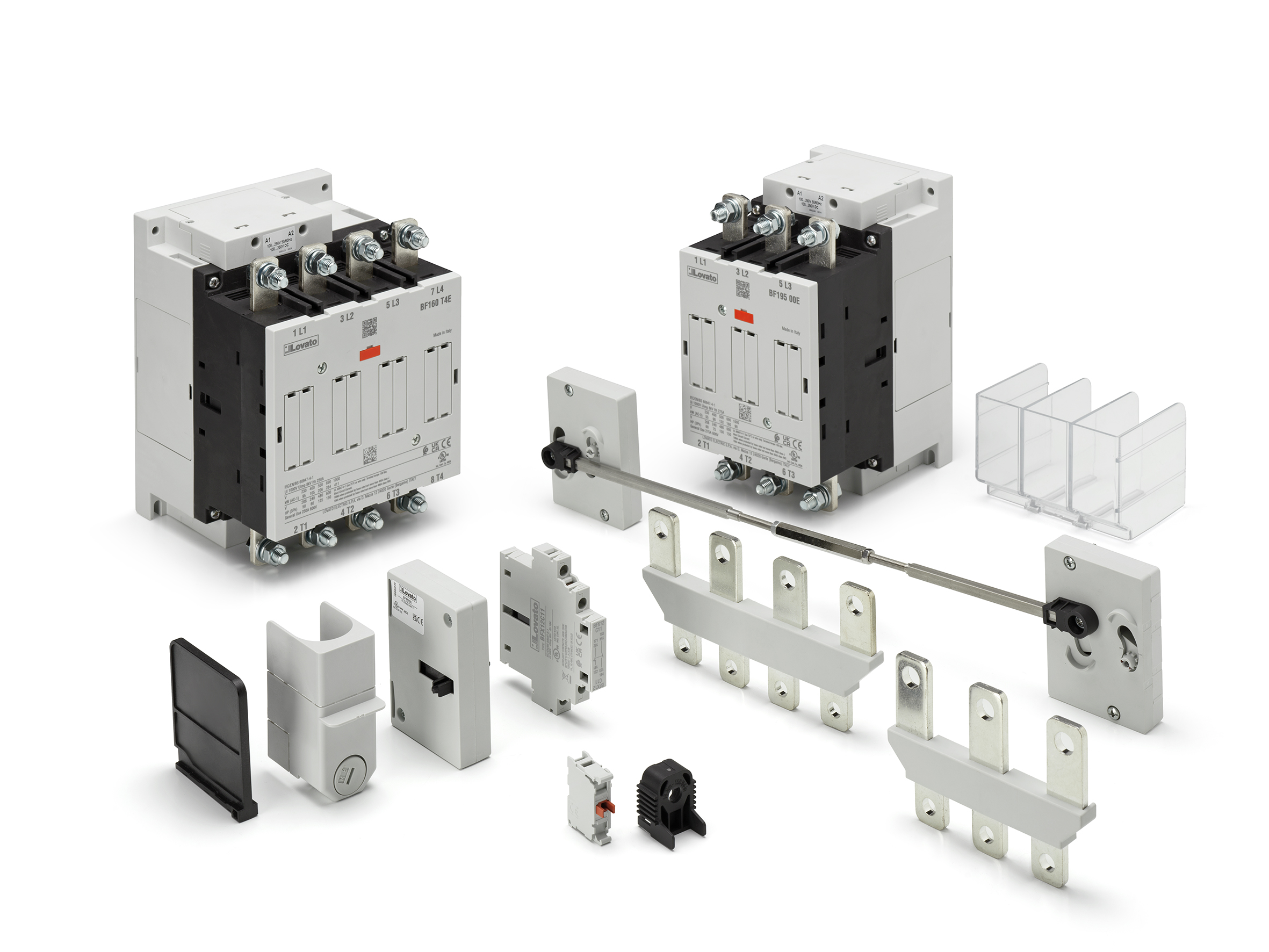 Designed with special attention to the dimensions, the 3-pole contactors are just 105mm wide, like the equivalently rated moulded case circuit breakers (MCCB), so the starters are more compact and easier to be connected.
The BF160, BF195 and BF230 contactors have an electronically controlled AC/DC coil for greatly reduced consumption and a wide nominal voltage range (e.g. just one coil for 100…250V AC/DC), which ensures operation without uncertainness, even under strongly varying supply voltage conditions.
The low profile front-mounted auxiliary contacts enable quick and easy wiring. Up to 6 contacts can be mounted on the 3-pole contactors, and up to 8 on the 4-pole contactors. In addition, up to 8 contacts can be mounted on the side faces.
A variety of accessories are available to facilitate the assembly of functional, safe panels: power terminal protections, isolating phase barriers, terminal enlargement kit to connect large wires and lugs, and a connection kit for assembling changeover, reversing and star delta starters.
A horizontal mechanical interlock mounts flush between the two contactors without increasing the assembly's overall dimensions. The interlock is also available in a vertical version.
Convenient fixing to the panel is achieved thanks to the easy access of the fixing holes and an accessory for tightening the terminal screws with just one tool.
A front-mounted mechanical indicator shows whether the contactor is open or closed.
The coil's power terminals are installed on the top side of the contactor as standard supply, but can also be mounted to the bottom side by a simple operation. Both coils and power contacts are also available as spare parts and are easy to replace when necessary.
The BF160, BF195 and BF230 contactors are compliant with stringent railway regulations for operation under shock and vibration (EC 61373), and the plastics used in their construction are compliant with the fire behaviour requirements of EN 45545. They are also cULus certified.