Assembled changeover switches and complete switch disconnectors
Fast installation and simplified logistics are critical requirements for panel builders, wholesalers and OEMs.
The demand for assembled changeover switches and ready-to-use complete switch disconnectors is growing fast.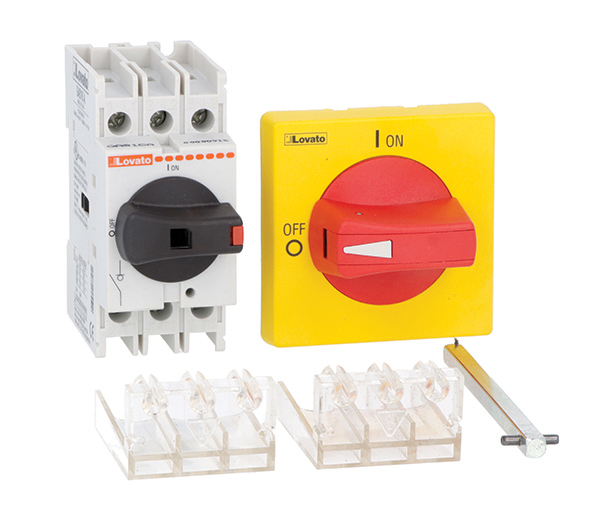 That's why LOVATO Electric has taken care of these needs by expanding its offer of switch disconnector solutions.
Let's take a look at these new products:
ASSEMBLED CHANGEOVER SWITCHES
With 12 codes to cover most of the applications from 25A to 160A, our new GA assembled changeover solutions offer high performance and ease of use.
They have a compact frame and outstanding performance.
The switches are available in 3P and 4P configuration, for applications up to 63A AC21 in the first frame size and up to 160A AC21 with the second frame size.
Installation is quick and easy: the units simply snap onto the DIN rail without the use of tools.
Their non-slip rubber inserts prevent them moving when installed even in a vertical configuration.
COMPLETE SWITCH DISCONNECTORS
LOVATO Electric offers a single code/package containing the 4 components required for electrical disconnection panels, a convenient solution that also saves time.
A variety of versions are available for different switching ratings, all of them are ready for immediate installation and use.
The kit contains:
A GA series switch disconnector, rated 25A, 40A or 63A, in 3P and 4P configurations (add-on fourth pole included);
A 300mm metal shaft extension (GAX7300);
A red/yellow door-coupling handle (GAX63) with protruding selector, which fits into a Ø22mm hole by the means of a threaded collar.
The handle can be padlocked in the off position and has an IP65 / Type 4X protection degree;
Two terminal covers for the protection of line and load terminals.
The GA series is now even more complete, thanks to the introduction of these new solutions.