New VT1 variable speed single-phase drives
Simple, compact and versatile, VT1 variable speed drives are the solution for innumerable industrial and service sector applications. Designed to control three-phase motors, they are ideal for controlling pumps, fans and air conditioning systems, packaging machines, belt conveyors, automatic doors and many other applications.
Their extremely compact size makes them particularly suited to installation in electrical enclosures and machines with limited space availability.
The new VT1 series drives are equipped with 200…240VAC 50/60Hz single-phase power and a 0…240VAC 0…599Hz three-phase output, and feature a front mounted RS485 port for remote control and monitoring by supervision systems or by a PLC or HMI controller.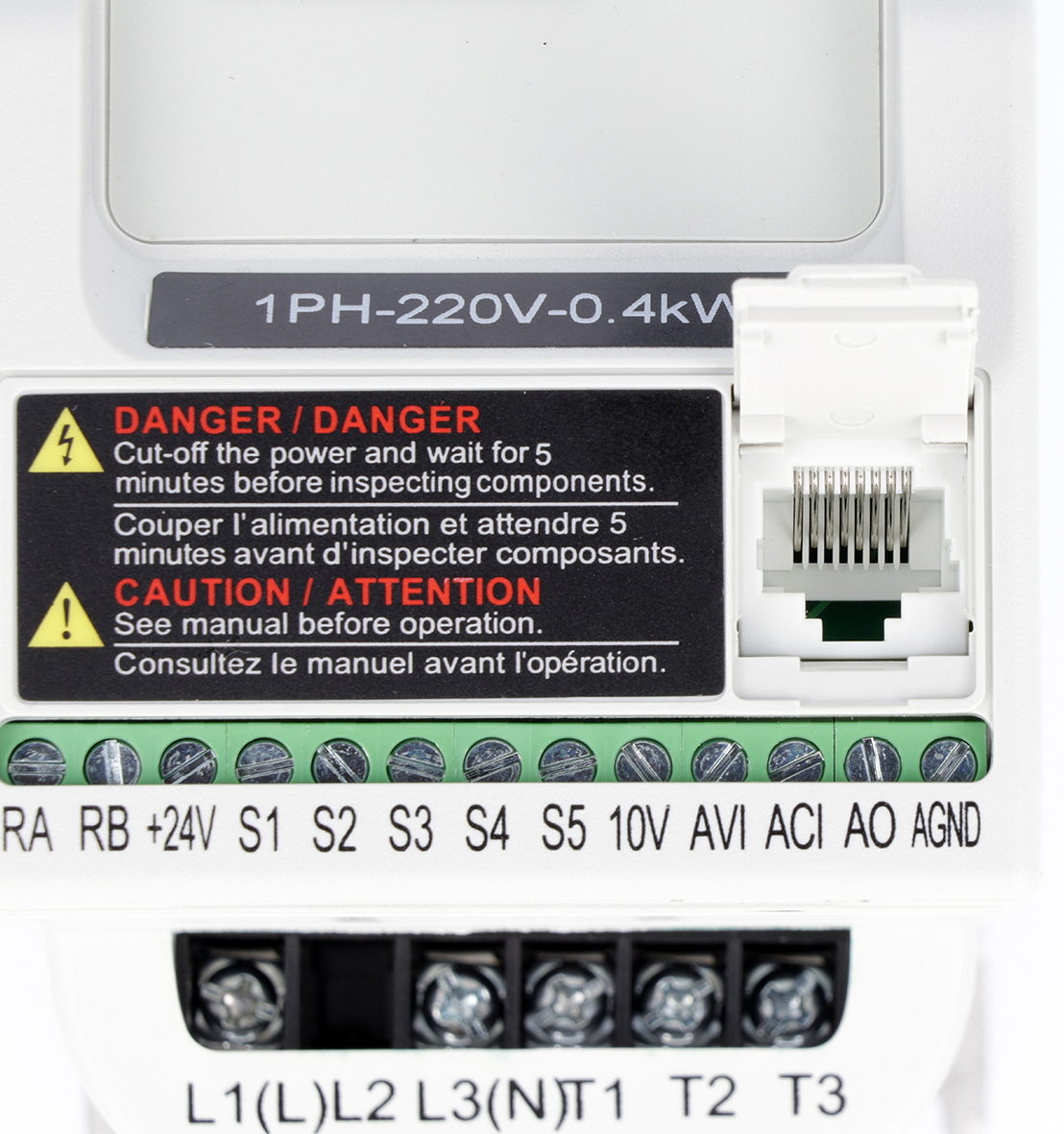 They support the widely used Modbus-RTU industrial communications protocol and BACnet, typically used in building management and HVAC applications.
VT1 series variable speed drives offer a variety of motor control modes, making them outstandingly adaptable to a wide range of load control applications.
These include the V/F linear mode, used for common applications like belt conveyors and assembly machinery, quadratic control, generally used for controlling pumps and fans, and sensorless vector control, which offers optimal performance at low frequencies and for applications with highly dynamic speed variation.
For applications with special requirements, it is possible to define a custom multi-point curve or apply a boost to the initial torque output.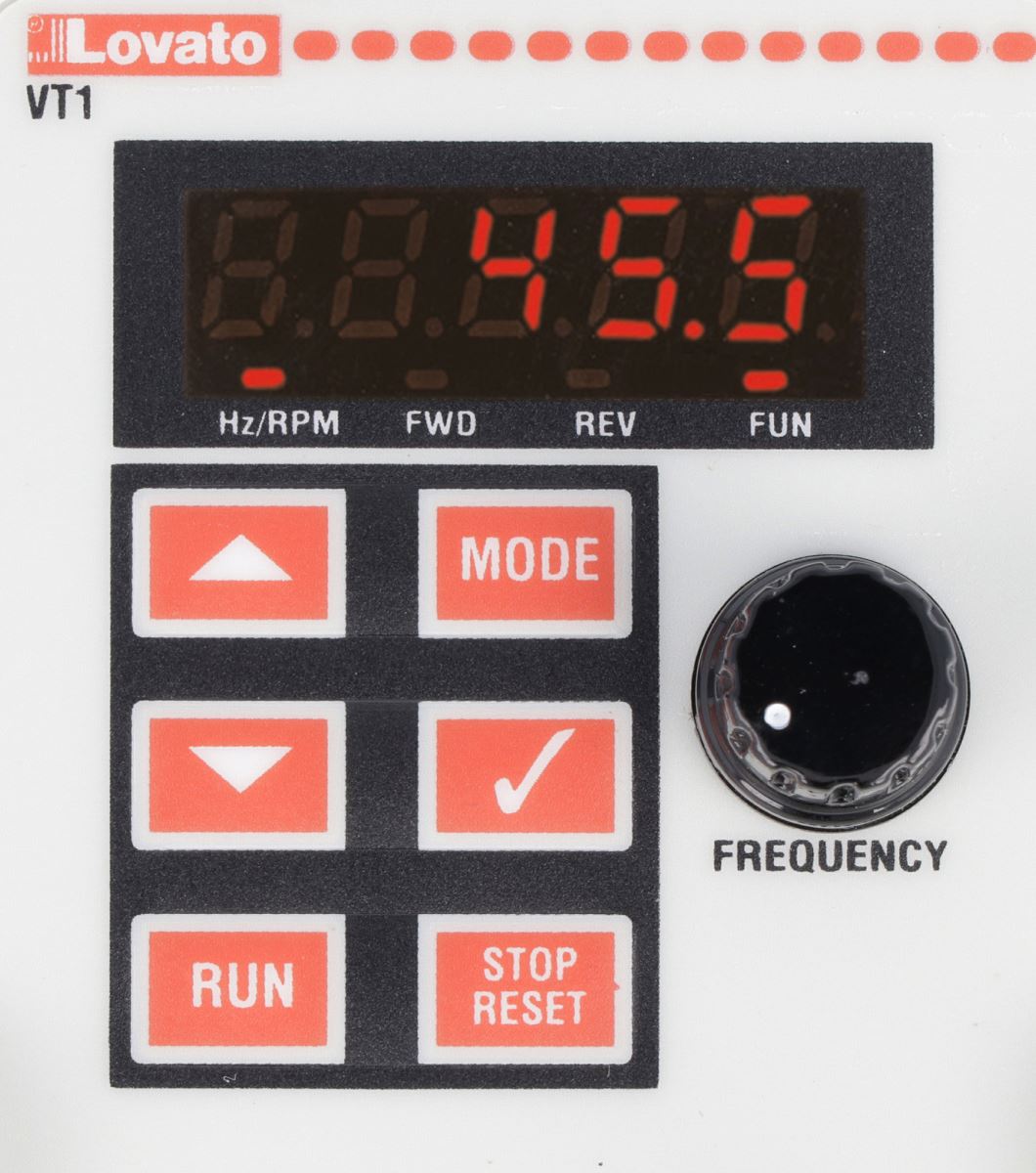 The new VT1 variable speed drives can be programmed with their front-mounted keyboard and display. The parameters are divided into functional groups to facilitate identification by the user, thus making commissioning and operation quick and user-friendly.
As an alternative to conventional programming with the front-mounted keyboard, the VT1 drive can be programmed remotely with a PC using the VT1X SW software from LOVATO Electric which not only allows the user to set the unit's parameters, but also monitors its operational status and electrical values.
The VT1 connects to the PC with the optional VT1X C01 USB cable, while the VT1X SW software is available for download free of charge from www.LOVATO Electric.com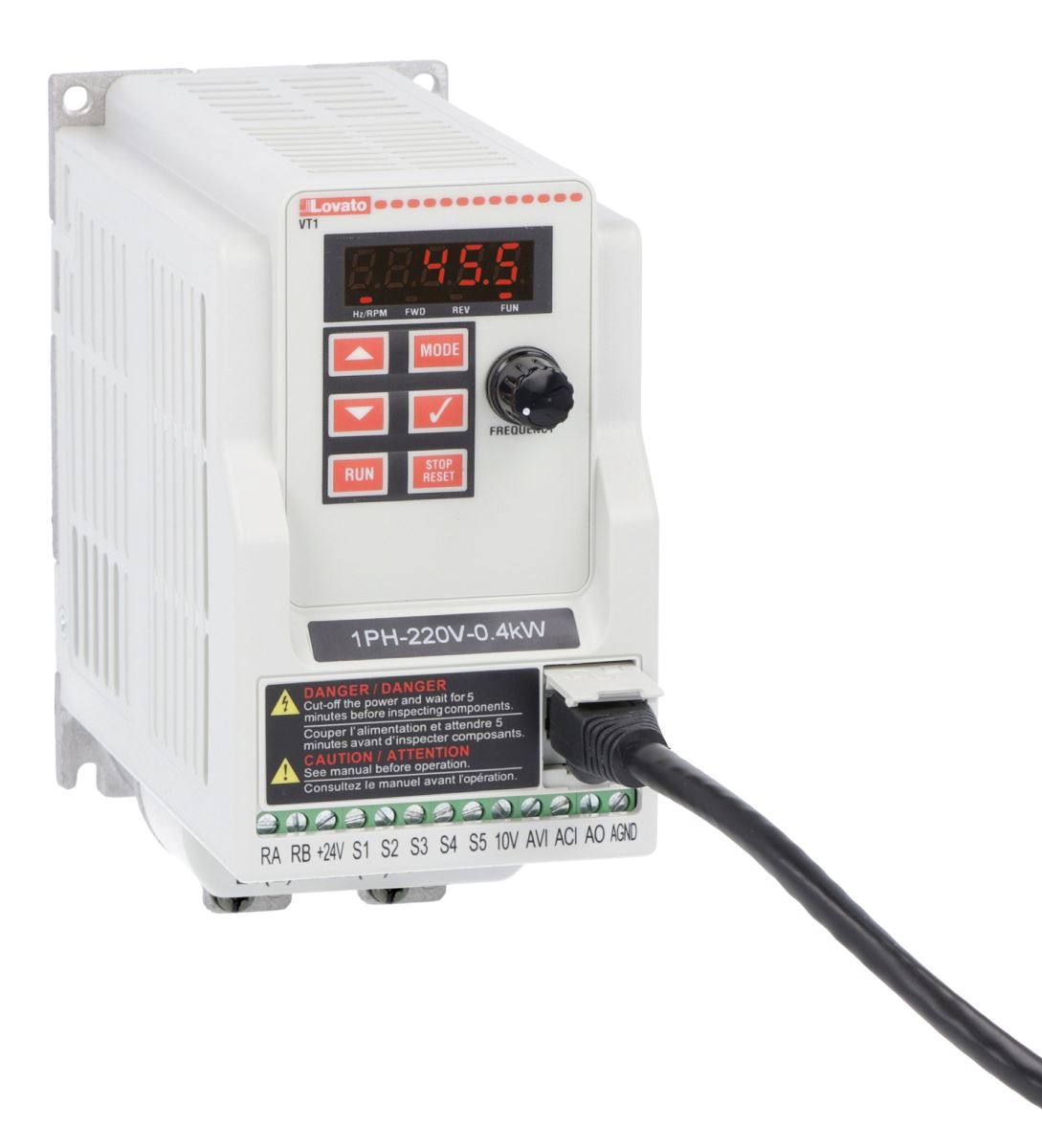 The motor speed can be regulated manually with the potentiometer on the front of the unit, or using other control options like the unit's keyboard, an external potentiometer, an analogue voltage or current signal, preset frequencies actuated by digital inputs, the RS485 port, or automatic PID control. The latter option is a closed loop control system widely used for controlling pumps and fans, in which the drive automatically regulates the speed of the motor to hold a given physical value constant (for instance pressure, temperature or flow rate).
There is also an Autorun (sequencer) function, which allows the user to program a sequence of frequency/time cycles composed of customised frequency, motor direction and step duration presets.
As for the hardware, an integrated category C2 EMC filter (EN61800-3) reduces electromagnetic disturbances. A remote keyboard (VT1X C02) can be installed to the front of the enclosure for programming and controlling the unit externally.
The new VT1 variable speed drives are available in the following power ratings: 0.2, 0.4, 0.75, 1.5 and 2.2 kW.