LOVATO Electric is pleased to announce its new series of safety relays.
LOVATO Electric, always mindful of the need for safety, has expanded its catalogue with the new SR… series safety relays.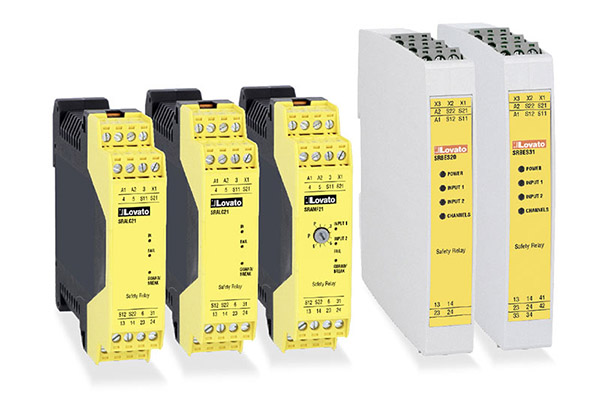 Designed to cover the most common risk categories, LOVATO Electric safety relays are rated up to category 4 with performance level PLe stated by the EN/ISO/BS 13849-1 functional safety standard, which is part of the Machinery Directive framework.
The offer consists of 2 series for a total of 7 individual codes, for safely monitoring and controlling safety circuits associated with risks for both users and machinery.
The SRB… series has been designed to handle emergency stops, safety switches, magnetic sensors and mechanical safety interlocks, while the SRA… series, thanks to the availability of a multifunctional code with front panel selector, covers all the above applications as well as two hand control devices and safety devices with OSSD outputs (photoelectric barriers, RFID tags, laser scanners, etc.).
The offering also includes an expansion module of safe outputs which expands the number of available relay outputs and thus makes it possible to control multiple machines at the same time.
The new series' coverage of numerous applications with a small number of individual codes greatly simplifies stock management. But they don't only save you money: with their compact footprint, the units save space inside the electrical panel, with SRB… series modules boasting a width of just 17.8 mm.
Thanks to their special removable screw terminals, SR… series relays are easy to hook up, which means fast installation and fewer cabling errors.
The front panel diagnostics LEDs make it easy to troubleshoot faults on external control circuits.
The new safety relays are homologated cULus for the North American market and TÜV for conformity with the Machinery Directive 2006/42/EC.
Make your systems safe with LOVATO Electric!